Blog
And Now For Something completely Different!
It is what it is - unless you change it. Those words kept repeating over and over in a dream I had and I haven't been able to get them out of my mind since. But today, I realized how applicable those words are to everyone who is getting on in years. When we are young, we're filled with hopes, dreams, and aspirations; however, as we age it becomes easier and easier to slow life down and just sit on the couch, watching television. The purpose of The Graytripper is to get fellow senior citizens out of the house to discover the fun of recapturing some of our former youthful exuberance and spontaneity by visiting new places and doing new things. Today's travel blog is just that - something exciting, something different, and something that certainly puts the change into it is what it is.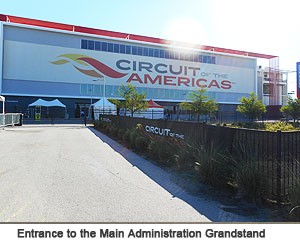 One of my passions when I was young was auto racing. I remember the days of Jackie Stewart, Stirling Moss, Graham Hill, and Mario Andretti. Racing was fast, exciting, and glamorous. As a young woman, my husband and I loved watching the European Circuit races on TV and were dreaming of the day when we could follow the Grand Prix season in person. Unfortunately, life does have a way of changing plans so the personal tour never came to pass, but the city of Austin built a wonderful 3.5 mile long circuit track that opened late in 2012. The now famous Circuit of the Americas, or COTA, track in Austin brings in all types of racing from Formula 1 to vintage race cars. The track's design is patterned after several European circuits and is one of only a handful of tracks that contain more left-hand turns than right-hand ones. With a race track that close, I decided it was time for me to experience the long sought after excitement of speed and roaring engines and I convinced my son that a trip to COTA was just what this old lady needed. We chose to see an IMSA competition and were soon off to the races!
We left Houston on a Friday evening and headed to Bastrop for a two- night stay. Bastrop is only about 20 miles from the race track and has the advantage being on the outside of the Austin traffic. Saturday morning we made our way to the track, joined by my grandson, and as we were taking a trolley from the parking lot, I could hear the sound of the engines coming from a preliminary race that was beginning. Listening to the engines made my heart accelerate at the same speed as the cars. I felt that same rush of exhilaration that I had many years ago while watching the Ferraris and Porsches roaring around the tracks of Monaco and Indy on our "giant" 25 inch TV screen.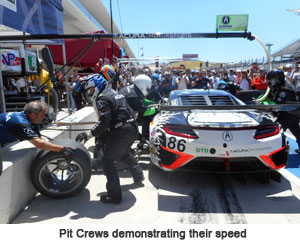 We found seats in the grandstand and watched as the cars raced by. The main grandstand is a covered section of seating and directly across from the paddock and pit road. The noise can be a little off-putting since the sound reverberates between the two buildings and unless you have ear plugs or headsets, it is deafening. Races featuring different series and classes of cars were scheduled at the track throughout the entire day and we saw all of the best of the European manufacturers as they hit the track and tried their skills just as it had been in the golden age of racing as if nothing had changed in all that time. We stayed there watching as car after car zoomed past us and headed up a hill to the first turn. In between races we headed over to the paddock. It was great to be able to walk down pit road and see the cars lined up with the drivers and pit crew standing alongside and available for photo opts or just there to answer questions from the spectators. I was lucky enough to get a picture with Mazda factory driver,Tristen Nunez and after meeting him, it makes watching the races on TV even more interesting since I have a "personal" connection with the driver.



The day was fun, the track was great, and the cars didn't disappoint with their powerful engines and skillfully executed turns. At the end of the day, we took the trolley to the parking lot and made our way back to Bastrop, sunburned and tired, but totally happy with the experience. After the excitement of the race track subsided, my stomach began to tell me it was time for dinner. Our hotel was very close to the Southside Market and BBQ restaurant and as soon as we got near the area, the smell of smoked brisket and ribs wafted out of their chimney and engulfed our car. Needless to say, we decided to have barbeque for dinner. The original Southside Market and BBQ restaurant was in Elgin, Texas, outside of Austin and was so successful, they opened a second location in Bastrop. Entering the restaurant, you can place your order at the counter and the food will be brought to you at the table. Since I was hungry from the race, I had no problem over-ordering and ended up with a tray full of hot, smoked BBQ goodness. The brisket was tender and the sides dishes were tasty and filling. For the coup de grace to my hunger, I finished the meal with a yummy blackberry cobbler topped with a scoop of Blue Bell Vanilla ice cream! Fortunately, I had achieved my goal of 10,000 steps while walking around at the race so there was no need for too much guilt over the dessert.
After a restful night, we had a quick breakfast at the hotel and headed to the downtown area of Bastrop. Bastrop is a small town situated along the lower Colorado River. The downtown business district has retained its historic charm with old style brick storefronts and large display windows that encourage window shopping in the various shops and boutiques along Main Street. The beautiful merchandise was not wasted on us and we found a store that carried McKenzie-Childs merchandise and my son bought me an elegant teapot for Mother's Day. After that, we decided we would be better off going someplace where we would not be tempted by shops with things a person "just has to have."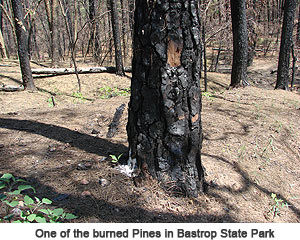 Bastrop State Park has always been a favorite area for visitors to hike and camp because of the Loblolly pines. These trees are isolated from the area of the East Texas pines and got the nickname of the "Lost Pines of Texas." A devastating forest fire in 2011 destroyed 96% of the park and only about 100 acres were saved.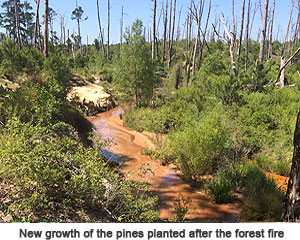 A tremendous reforestation project was begun after the fire to replace almost 4 million burned trees. We had visited the park in 2012 and the miles and miles of blackened trees were a bleak monument to the forces of Mother Nature and the carelessness of untrained campers. It was difficult to comprehend the total destruction of a once-beautiful area. Returning this year gave a lift to the spirits. The planting has been successful and where there were once burned skeletons of stately pine trees, there are now young trees that have already reached a height that has returned the wonderful greenness to the park. Hiking in the park provided an opportunity to see just how much has been done to the area. We spent a very relaxing and rewarding time on the different trails and just marveling at the new growth and life the area now has.
This trip was completely out of my norm for a day or weekend jaunt. However, it was exciting to do something outside the boredom zone and I felt a newness in my mental outlook. Maybe auto racing isn't your thing; the point is that learning something new or having new experiences keeps your brain functioning and creating new connections and neurons and maintains responsiveness. Every day we wake up, we have received the gift of another 24 hours to do something exciting and fun. Even if you are in your 60s, 70s, or even 80s, you can still have goals and desires. Whether you realize these dreams is totally up to you. Get up, get out, and go and it will no longer be what it is, it will be putting energy and enthusiasm back into your life!
Let us know what your favorite things to do or places to go were when you were younger. Go to the CONTACT US page and email the information or any comment you have about the trips that have been featured. We always want to hear from our friends and neighbors!