Blog
Relax and leave the driving to someone else!
I love road trips. I like to drive, I like to stay in hotels at night, and I like eating at different cafes and restaurants. With all those "likes", I definitely qualify as a true road warrior. However, every once in a while, it's great to just sit back, relax, and leave the driving to someone else. After my first retirement, my sister-in-law and frequent travel partner, LaVerne, introduced me to the luxury of going on senior citizen trips sponsored by Harris County or with church senior groups. The outings are only for a day but they schedule visits to some exceptional places within a 150 mile radius of Houston. We've been to the Schulenburg area to see the Painted Churches and then visited a nearby goat farm to learn the art of cheese making, we've traveled down the ship channel on the Port of Houston touring vessel, the Sam Houston and, we were lucky enough to go on one of the best guided Christmas light tours that I have ever seen. On all tours, we ate at a variety of reasonably priced restaurants that offered great food.


Recently, we went with the Terrace United Methodist seniors group to tour the aquarium at Moody Gardens in Galveston Texas. On the scheduled day of the trip, I drove to the church, parked my car in the lot, and climbed on the comfortable bus leaving all traffic and parking worries behind. As I walked down the aisle to my seat, I saw many of the same people who had been on other outings. We have become a very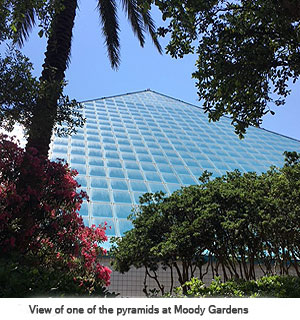 friendly cohesive group ready for any adventure. Right on time, our driver pulled out of the parking lot and we were heading out for some "Island Time". Our first stop was for a delicious lunch at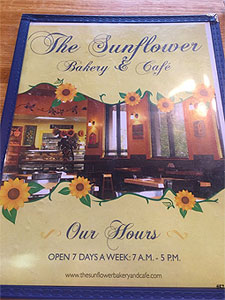 The Sunflower Bakery & Cafe. Group travel usually involves an earlier lunch hour than I am used to so when I looked at the menu, it was difficult to make a selection since my stomach was still focused on breakfast time. My first choice was a shrimp Po-Boy but I wasn't sure if that might be too heavy so I wimped out and got a BLT. The sandwich was delicious but as the waiter kept bringing my travel companions their orders of shrimp Po-Boys, I knew I should have ordered one too. The golden brown fried shrimp on the fresh roll looked and smelled delicious and I have made a pledge to myself that I will go back to Galveston and the Sunflower Cafe just to get the shrimp! After we enjoyed delicious homemade sandwiches and Gulf seafood, we gathered together back at the bus ready to head for our Moody Gardens destination.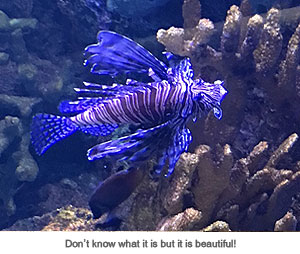 Galveston Island has many attractions for tourists but Moody Gardens stands out since it is readily identified by the three glass pyramid buildings that are visible from the Galveston Causeway. The three pyramids each house different attractions. The Discovery Pyramid focuses on science and offers a variety of exhibits ranging from a Dinos Alive exhibit that features a hands-on archeological dig site, to a Science of Music exhibit. The schedule can be found on the Moody Gardens website. The Rainforest Pyramid recreates the rainforests of Africa, A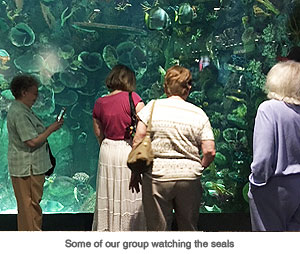 sia, and the Americas. Those of us who live along the Gulf Coast will most likely not notice the very humid, replicated atmosphere of the display since it just feels like a normal muggy Houston summer day. The Aquarium Pyramid is the main aquatic zoo in the coastal area. You can catch site of penguins diving in and out of the water in the 1.5 million-gallon aquarium teeming with seals, stingrays, sharks, and more! There are interactive displays and activities at various locations in the exhibit with guides who will explain ocean sea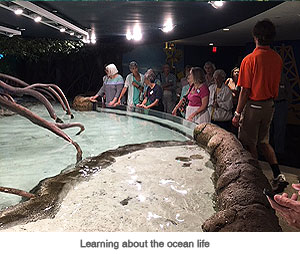 life and even let you touch some of the mantas swimming in the display pool. The aquarium is comfortably navigated and has areas to relax along the tour path. It is not unusual to meet other visitors on the tour and a lot of conversations begin as people stroll through the various exhibits. I met a group of four women who were visiting Galveston to do some off-shore diving. These were women in their 60s and 70s who have dived all over the world and are still as active as they were years ago when they began their hobby. They were impressed that at my age, I am a web designer and I was equally impressed that they had the nerve to dive in the ocean - regardless of age!
Moody Gardens is an ideal destination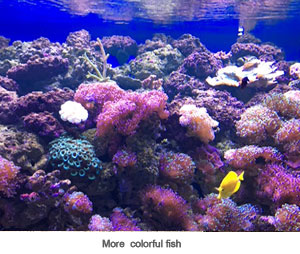 for seniors and young families alike. There are many other attractions available including the shimmering white sand of the Palm Beach area where you can take a relaxing tube ride, gently floating on the lazy river or, if that's too tame, there are also 18-foot tower slides and a wave pool. For a little more adventure, try the Ropes Course and Zip Line. You can test your balance and strength as you climb the five-tier Sky Trail® Ropes Course or go all the way with a round trip on the Zip Line. For the younger guests, the SpongeBob Subpants Adventure from June 2 - August 18, takes passengers on a submarine voyage mixed with 3D media and a lot of other special effects that make it a special treat. Children feel like they are actually in SpongeBob's magical ocean world. Another attraction that the whole family can enjoy is a cruise on the Colonel Paddlewheel boat. This is an hour-long cruise aboard a replica of an 1800s paddlewheel boat. A trip to Moody Gardens is worth the drive to Galveston and has something for any member of the family - plus, you are always close to the beach, the Pleasure Pier, and some outstanding sea food restaurants!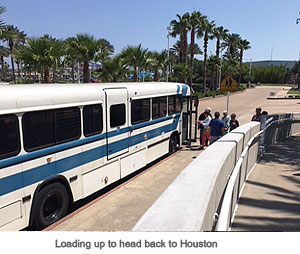 Soon it was time to head back to Houston and our normal dry land lives. The trip had been a success and our leader had everything planned so that we all had the chance to examine the entire exhibit at a leisurely pace and on our own. Settling down in our seats, we were well-fed, well-educated, and happily tired from the aquarium tour but, our day was not over. One of the members of the group had a birthday and what could be better than celebrating a birthday, complete with cake, while we were traveling up Interstate 45 on the way back to Houston. Cutting and serving a birthday cake at 65 mph takes as much agility and balance as climbing the ropes course. The cake was served, "Happy Birthday" was sung, and we devoured the delicious treat as we sailed up the Interstate. A happy and fun time was had by all thanks to leaving the driving and planning to others.
A guided day trip is a wonderful way to get out on the road to search out different places, to eat at exceptional restaurants, to meet new people, and to enjoy seeing familiar travelers from previous tours. Many churches offer Senior Day Trips and a few even have longer tours. Check with your home church or search the internet for programs in your area. Harris County Precincts have well thought out travel schedules for seniors and I'm sure other precincts around Texas and other states, have similar programs. Information and trip schedules are available on the various precinct websites. Who knows, we may even meet on a future trip.
Let us know what your favorite things to do or places to go were when you were younger. Go to the CONTACT US page and email the information or any comment you have about the trips that have been featured. We always want to hear from our friends and neighbors!