Blog
Urban Sprawl Discovery
I recently had a dog who loved sleeping on the couch. He had one characteristic that did cause issues; he was very large and when he climbed up on the cushion, his body seemed to spread out in an uncontrolled expansion of his large stomach area. This caused his mass to cover some very important, and needed, items. When the question was asked "Where is the remote?" or, "Where is the newspaper?" or even "Where are my glasses?" the standard answer was "Look under Buck's tummy!" And...sure enough, that is where everything was hidden. This travel blog points out that some really wonderful places can be found hidden under the expansion of large cities and on this trip we are visiting a city that has been called "an urban jewel in the Piney Woods" - Conroe, Texas.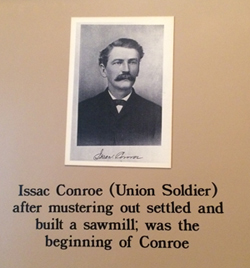 Conroe is located about 40 miles north of Houston on Interstate 45. The city was named after Isaac Conroe, a Northerner who moved to the Houston area after mustering out of the Union army. Settling on a locale on the edge of the Piney Woods, Isaac Conroe built a sawmill that brought many new residents to the area and the ensuing city was appropriately named Conroe. The city was only a little over a 5 square mile area when it was first incorporated but, according to Wikipedia, the city limits have expanded to 72.0 square miles in 2007. The city of Conroe has a very aggressive performing arts program with two professional theater venues - The Crighton Theatre and The Owen Theatre. Other points of interest include several local breweries, the W. G. Jones State Forest, the Conroe Art Gallery, The Heritage Museum, and Lake Conroe.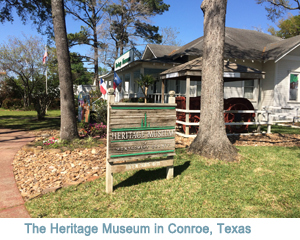 My son, Scott, went with me on this trip. We had tickets to see B. J. Thomas in a live performance at the Crighton Theater and since the original concert in 2017 had been cancelled due to Hurricane Harvey, we were anxious to see if our year-old tickets were still good. We started our drive after breakfast on a beautiful Saturday morning. The drive from Houston to Conroe takes about 40 - 50 minutes depending on traffic but with all the shopping areas plus the commercial buildings around the Woodlands Mall, my impression was that we never really left Houston. Upon our arrival, we decided our first stop should be the Heritage Museum. We had noticed their signature Pegasus, or Mobil Flying Red Horse, sign many times as we traveled up and down Interstate 45. The museum was surprisingly interesting.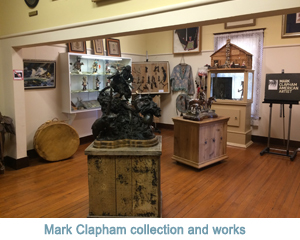 It is located in the old Grogan-Cochran home. In 1917, the two families owned and operated 25 sawmills in the Conroe area. Years later, their house was donated to the city to be used as a museum and was moved to Candy Cane Park in 1985. The museum complex also is the site of the Strake-Gray Oilfield house and Roughneck bunkhouse. Entering the museum was a total surprise as each room gallery offered a comprehensive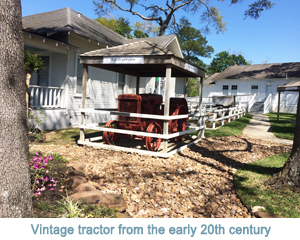 display of regional items from the past as well as detailed time-line historical information of the area. Two of the rooms are dedicated to Mark Clapham, an American artist from the area who designated that his works be made available to the museum for display. The rooms contain a considerable number of his paintings, sculptures, and collected artifacts. The museum is really worth a visit and has a variety of impressive outdoor exhibits that include a train, an antique tractor, a vintage cannon, plus a "peckerwood" sawmill, and even an oil rig. Inside the museum, there are four galleries and a hallway display. In fact, I was so impressed that I have included a pdf file with an overview of the museum to give my trippin' friends a better idea of the variety of exhibits on display. Click here for pdf .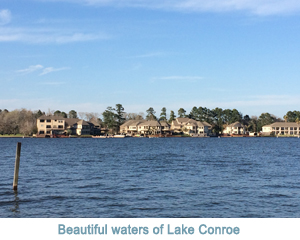 Leaving the museum we decided to take state highway 105 west and head out to Lake Conroe. Lake Conroe is on the west fork of the San Jacinto River and is a very popular place for fishing, boating, and jet-skiing. The lake was completed in 1973 and was designated as an alternative water supply for the city of Houston. Since that time, many beautiful lake-side homes have been built on the shores along with the addition of golf courses, entertainment venues, restaurants and even the Southern Empress paddlewheel excursion boat that takes passengers either for lunch cruises around Lake Conroe or for a relaxing, sunset dinner cruise. The lake enjoys a very active outdoor boating scene and numerous marinas, some with valet boat launching! Everything is nestled around the lake's perimeter in the lush, green comfort of the magnificent Piney Woods. The day we were there, the weather was comfortable, the sky was blue, and the lake was quiet and beautiful. It was a day to lean back and just stare at the calm waters. But, if you crave a more challenging experience on Lake Conroe, you can be blasted into the sky via Hydro Rockets where water propulsion takes you up to a safe height and lets you soar through the air like a bird. For the not quite so adventurous, there are party boats at Dryft Cycleboats driven by human power with your peddling being the source of the power. Just thinking about all the activity made my stomach rumble letting me know that it was way past lunch time.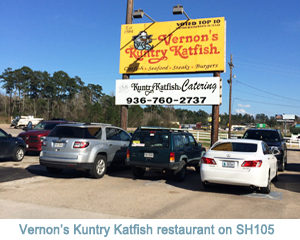 When Chet Garner, from the Daytripper TV show visited Conroe, he featured Vernon's Kuntry Katfish restaurant located on SH105 near the lake. The food had looked delicious on TV so Scott and I decided that would be the perfect place to eat a late lunch before we headed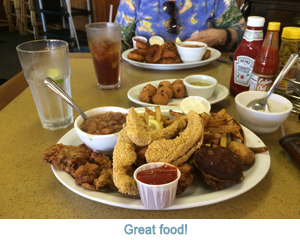 back to Conroe for the concert. We entered the restaurant and were immediately impressed with the casual, homey feel to the dining room and we had hardly been seated before a smiling waitress brought out a serving of fried green tomatoes for each of us to munch on while we waited for our order. Later, after indulging, or maybe overindulging, in Gulf Coast catfish, oysters, with sides of hush puppies, pinto beans, and fried okra, I could feel my southern heritage reaching every part of my body and I knew that for the rest of the day, I would be using the traditional two first names of the south and would only answer to lil' Margie Beth. The food was delicious and I'm glad we ate with enough time before the concert to digest some of that huge meal. Otherwise, lil' Margie Beth would be snoring in the aisle seat on row 4!
We drove back to downtown Conroe with enough time to walk around the square and check out the different businesses bordering the central courthouse.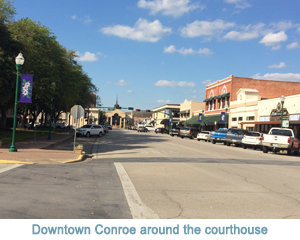 We noticed a variety of stores, places to eat, and a coffee shop where patrons can relax and slowly drink a cup of freshly brewed coffee. For the browsers and shoppers, there are antiques to explore in an antique mall across from the courthouse. Conroe has a strong cultural side with three art galleries located in the downtown area plus live theater at the Owen and Crighton Theaters. I had a chance to experience the spacious and comfortable Owen Theater on a previous trip while watching my granddaughter, Sara, perform in Romeo and Juliet.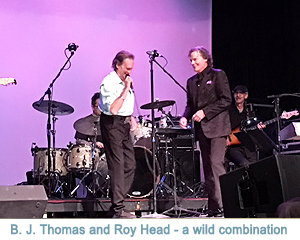 The Crighton also presents live music performances that have featured Marty Stuart, Connie Smith, Ray Price, and B. J. Thomas among others. After strolling through the streets, it was time for an evening of good music. We were lucky enough to have wonderful seats and, as always, B. J. Thomas put on an outstanding show. One of the high points of the performance was when Roy Head came onstage to sing a couple of songs. Roy Head and B. J. Thomas go way back to the 1960s when they used to do band battles at venues around the Houston, Sugar Land, and Richmond areas. Even in his 70s, Head still has a very energetic stage presence and is known as a wildman performer. He demonstrated some of his trade mark dance moves that would have made Elvis blush!
After the show, we drove back to Houston and I had time to really think about Conroe. For years, it was always someplace that you drove through to either leave or come back to Houston. After this visit, I have a new appreciation for the city under Houston's sprawl. This was a wonderful place to visit and offered countless numbers of things to do, places to see, nature to hike and enjoy, all surrounded by the forests of the Piney Woods and the beauty of Lake Conroe. Conroe is definitely a destination place to visit.
Let us know what your favorite things to do or places to go were when you were younger. Go to the CONTACT US page and email the information or any comment you have about the trips that have been featured. We always want to hear from our friends and neighbors!