Blog
You Can Take The Girl Out Of Texas But You Can't Take Texas Out Of The Girl, And Really...Why Would You Want To?
(Click on a picture to see a larger image.)
Time for a mother-daughter road trip and this was no two day jaunt around Texas, this was a big girl trip! My daughter,Jennifer, and I were heading east of the Mississippi River and north of the Mason-Dixon Line to Steubenville, Ohio. Jennifer's oldest daughter, Cadie, who is also my avatar, moved there almost a year ago and it was time for us to check out her new home state.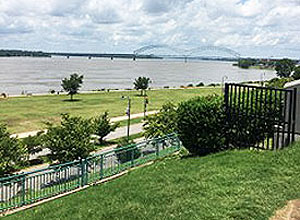 We loaded the car with the supplies we would need for the drive which means snacks and drinks and headed north out of Houston for the 1300 mile drive. Our strategy was to divide the drive into three days with the first and third days being mostly driving days and the second day would be less driving and more sight-seeing. We planned to stop in Memphis the first night and head to Nashville for the second night. The drive went quickly the first day and we both were excited as we caught our first glimpse of the mighty Mississippi River. At 2348 miles long, the Mississippi River is the longest river in the United Stated with the Missouri River a close second at 2341 miles. The Mississippi has an iconic appeal as it has figured prominently in our country's history. The river still serves as an important transportation pathway with barges moving goods to the various ports. Crossing over the bridge, I felt a sudden desire to break into song and sing at least a couple of lines from Ol' Man River which ended with Jennifer telling me to "Tote that barge, Lift that bale, Sing any louder, And we'll land in jail".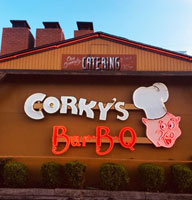 After checking into the hotel, it was time for some good Memphis barbecue. We headed out to Corky's Bar B Q which was one of the restaurants recommended to me by a friend who was raised in Nashville. Corky's turned out to be very close to our hotel and was a winner - great service, great food, and interesting artwork to look at while we munched down on some yummy, slow cooked, pork ribs washed down with a glass of sweet tea; totally worth the drive!
The next morning we drove to the Lorain Motel to visit the Civil Rights Museum.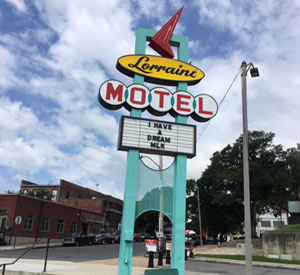 Standing in the parking lot of the motel was like a step back in time for me. Jennifer is too young to remember the events of the 60s but they are still firmly entrenched in my mind. Seeing the motel sign and the balcony where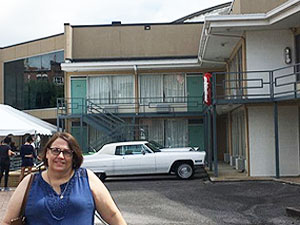 Martin Luther King Jr. was standing when he was shot, brought back all the feelings of the fear of a decade that started with the assassination of JFK in 1963 and then the shootings of MLK Jr. and Robert Kennedy in 1968. It was not our country's finest hour. The motel has been preserved exactly as it was with the same types of cars parked under the balcony just as they were that infamous day. The museum is well organized, educational and is certainly worth a visit.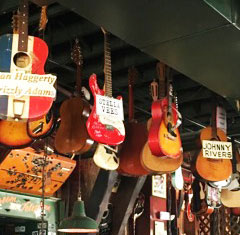 Leaving the museum we headed to another of Memphis' significant contributions to national culture, this one decidedly less sobering. Beale Street is famous for being one of the birthplaces of the blues, and its history is very much alive and on display for tribute-minded visitors to enjoy. Even if you don't play the blues or sing the blues you will enjoy what Beale Street has to offer. It's worth noting that Beale Street gave its name to one of the most famous of bluesmen ever, perhaps the one person responsible for popularizing the blues beyond the nightclubs and juke joints of the segregated south. Back then he was known locally as the Beale Street Blues Boy. Later on - after fame took him on the road - his name was shortened and he became simply B.B. King. The thrill of Beale Street is not gone, and today it boasts many bars, restaurants, and music venues.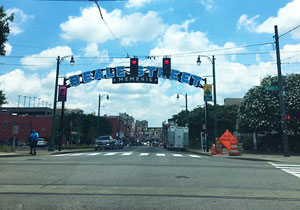 As we walked past the various shops, we could hear music coming from within most of them from early-era blues and jazz legends like Louis Armstrong, Albert King, Muddy Waters, Memphis Minnie, and of course B. B. King. The atmosphere of the street reflected a now nearly-bygone time and seemed removed from the music of today. I closed my eyes and imagined what it must have been like in the 1940s with smoke-filled bars, dance floors overflowing with people all willing their witness to the heavy, mellow blues cries from B. B. King's "Lucille" and to hear him sing "I Got Some Help I Don't Really Need." My remembrance was short-lived though as my stomach reminded me that we had not yet eaten lunch. We were close to a really great looking place and went inside. We couldn't have made a better accidental choice. We found the Rum Boogie Cafe, the cornerstone of Beale Street for 30 years! Upon entering we were properly greeted by guitars covering the walls and hanging from the ceilings. They have over 200 autographed instruments from the greatest performers in the music industry.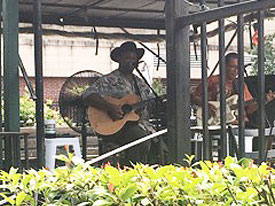 Even with all the memorabilia and guitars to distract us, we did notice that the food was fantastic. I had some of the best catfish I've eaten. Reluctantly, we left the cafe and headed to a souvenir shop for the obligatory tee shirts. While we were shopping, I could hear live music from across the street so after we purchased our shirts, we crossed over to have liquid refreshments and listen for awhile. There were two men on guitars and they could play anything that was requested. Having just seen one of Carlos Santana's guitars, I was in a "Black Magic Woman" kind of mood so I requested the song and they played it almost as well as Santana himself. They also educated me to the fact that the song was originally from Fleetwood Mac when that band successfully attempted to stretch the blues beyond its original boundaries, something that is still being done today.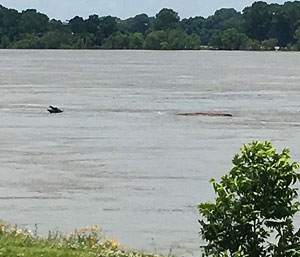 From Beale Street, we drove down to a park alongside of the Mississippi River to get an up close and personal look at the water before we left Memphis. We had found so much to see and do in Memphis that we used up our allocated sight-seeing time and wouldn't be able to tour Nashville. (That gives us something for the next trip)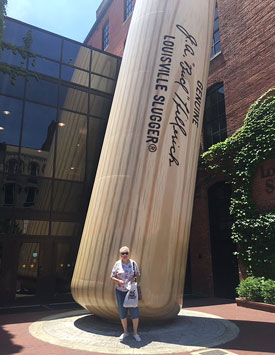 On the third and last driving day, we said good-bye to Tennessee and headed north to Ohio. As we drove through Bowling Green, Kentucky, we passed the National Corvette Museum and were tempted to stop but with time against us, we headed to Louisville and the Louisville Slugger Museum & Factory.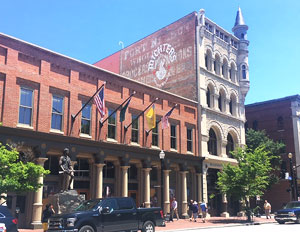 This was a "must" stop since my grandson, Evan is a huge baseball fan. Louisville turned out to be a delightful city. The architecture and bridges gave the skyline a very picturesque appearance. The baseball museum was larger than I expected and the huge baseball bat in front of the building was the perfect Instagram moment. Fortunately, Jennifer has traveled enough with me that we have developed a rhythm to our sight-seeing. We can go to any tourist spot, scope it out, hit the points that we want to see, and be out of there in no time at all. So we quickly made our purchases and then it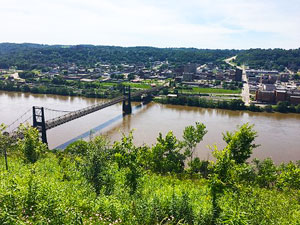 was north to Steubenville, Ohio.
Steubenville is located along the Ohio River and about 30 miles from Pittsburgh, Pennsylvania. It has a population of close to 20,000 and got its' name from Fort Steuben. It is home to the Franciscan University of Steubenville and is known for their Nutcracker Village Christmas event. The economy was largely dependent on the steel industry and has been sluggish since the industry waned during the 1980s. Driving around the area, many of the original large steel plants can be seen standing empty and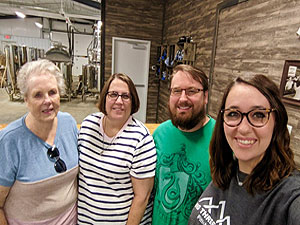 forlorn, giving rusting testament to the downturn of the steel business. Some plants have been refurbished and re-purposed as retail space. Along with the steel industry, Ohio has always been a strong agriculture state and today, is a leader in the production of soybeans and corn. There are country roads in the Amish area that are almost hidden by massive corn fields planted right up to the road's edge. If the season is right, a traveler can reach out and pluck an ear of corn from the stalk as they drive. And for a little cold refreshment to go with the corn, Hightower Brewery is a wonderful micro-brewery just outside of Steubenville. The brewery not only serves a wide variety of craft beers, they also have a food truck on the property, where I could get a diet Coke, and the best grilled cheese sandwich in America!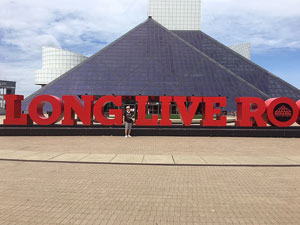 We had a very enjoyable visit with Cadie and her husband, Patrick. We also visited with his parents and had a wonderful dinner outside on a beautiful patio with blooming Yucca plants and great bird watching which made for a very relaxing evening. But, relaxation is not on our list when we travel so the next morning we got up and headed even more north to Cleveland and the Rock and Roll Museum. Cleveland is a wonderful city built on the shores of Lake Erie. I had been to Cleveland many times on business in my first career and always loved the area and especially the lake. There is something mysterious about a body of water the size of Lake Erie and it feels more like our Gulf of Mexico than a lake. I have heard that in the winter, the waves will freeze in mid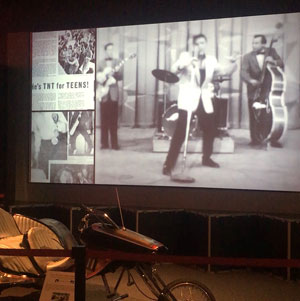 - break and thought that was probably an exaggeration until one cold, January visit when I saw huge ice floats covering the lake as far as the eye could see.
The Rock and Roll Museum is on the lake shore in downtown Cleveland. I visited the museum about 20 years ago and at that time, it was very interesting but not too crowded. This time, it was packed and more exhibitions and memorabilia have been added to the displays. Jennifer loves museums but my knees are not fond of walking slowly and standing,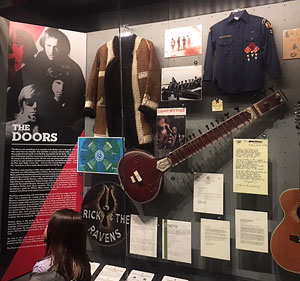 so I found a comfortable seat and watched a retrospect of Elvis Presley on a movie screen, remembering the August day in 1955 when I met him while he was playing at Magnolia Gardens outside of Houston - but that is another story completely. Jennifer wandered around the museum, checking on every exhibit there and when she had thoroughly seen everything, she joined me on the bench. I was amazed at the number of visitors in the museum. It has definitely become a top tourist attraction.
The next morning, it was time to head back to Texas. We hated to leave Cadie and Patrick but we had had such a great time that we were already planning our next visit even before we left for home. Traveling to different states makes me wish that I had started a travel blog back when I was 20 years old. I have been fortunate enough to have visited all 50 states and each state has its own intrinsic personality and history. The mental image I get when I think of a state has always turned out to be a correct depiction of that state and I can truly say that I have never been to a state that I haven't liked. Texas is my home though and soon, we were back under the big and bright stars at night, deep in the heart of Texas. The familiarity of my state was welcoming and I knew that even though the girl had left Texas, Texas would never leave the girl!
Let us know what your favorite things to do or places to go were when you were younger. Go to the CONTACT US page and email the information or any comment you have about the trips that have been featured. We always want to hear from our friends and neighbors!